Stainless Steel Filter
Stainless steel filter is wildly used in the following industries: oil, chemical industry, chemical fibre, electricity, medicine making machinery, foods and drinks, and cosmetics.
Features:
1. Neat and precise, without bug.
2. Regulate and precise mesh
3. Reliable filtering precision
4. High compressive strength
5. Hot-resistance and rust-resistance
6. Wear-resistance
7. Good moulding
Material: ss304, 316, 316l stainless steel
Standard roll length of stainless steel wire mesh: 50'' to 100"
Other specifications of stainless steel wire mesh are also available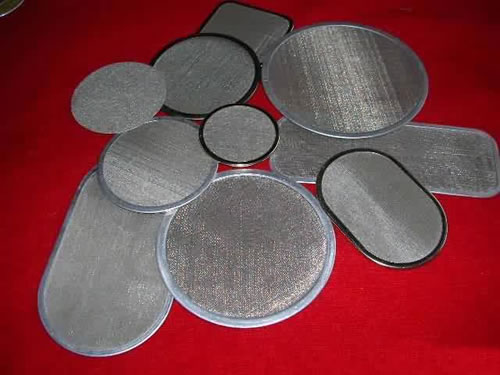 Stainless Steel Filter Wire Mesh Disc
Professional Filtering mesh packs(for gas, liquid and liquid)
Specification Table
| | | |
| --- | --- | --- |
| mesh | wire dia (MM) | Material (AISI) |
| 12 X 64 | 0.58/0.40 | 304 316 |
| 24 X 110 | 0.36/0.25 | 304 316 |
| 14 X88 | 0.50/0.33 | 304 316 |
| 30 X150 | 0.18/0.14 | 304 316 |
| 40 X200 | 0.14/0.11 | 304 316 |
| 50 X250 | 0.10/0.071 | 304 316 |
| 80 X700 | 0.06/0.05 | 304 316 |
| 165 X800 | 0.071/0.040 | 304 316 |
| 165 X1400 | 0.05/0.032 | 304 316 |
| 200 X1800 | 0.05/0.03 | 304 316 |
| 325 X2300 | 0.030/0.025 | 316L |
| 400 X2800 | 0.030/0.02 | 316L |