Stainless Steel Architectural Mesh
Stainless steel architectural mesh is often specified for architectural applications, both internally and externally(also named facades mesh). Most commonly Grade 304 is specified, however Grade 316 is also used.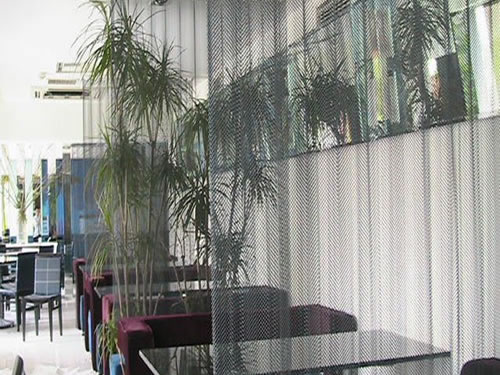 Grade 304, Stainless steel architectural mesh
Stainless Steel Architectural Mesh applications include external mesh facades, ceilings, solar shading, mesh balustrades, decorative screens, partitions and wall cladding.
Stainless woven wire mesh is a sustainable material which offers superior economic and environmental benefits as well as high strength to weight ratio, ease of fabrication and excellent aesthetic appeal.
Material: stainless steel type 304, 304L, 316, 316L
Max Width: 8m
Length: According to custom's requirment.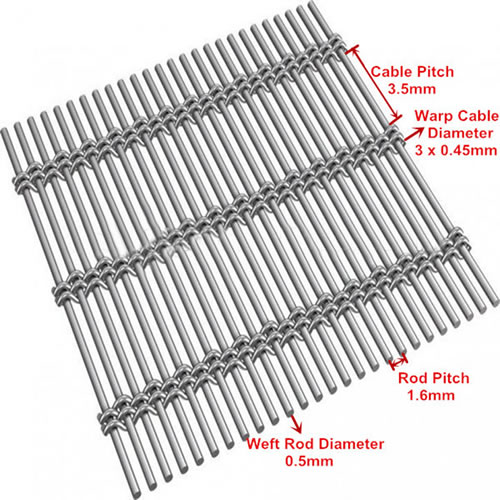 Decorative metal mesh with stainless steel wire mesh
Some Specifications For Your Reference
1. Warp cable dia.: 2.0mm x 3
2. Cable pitch: 80.0mm
3. Weft rod dia.: 3.0mm
4. Rod pitch: 10.0mm
5. Weight: 6.6kg/m2

1. Warp cable dia.:0.45mm x 3
2. Cable pitch: 3.5mm
3. Weft rod dia.: 0.5mm
4. Rod pitch: 1.6mm
5. Weight: 2.1kg/m2
Stainless Steel Architectural mesh (Type)
ITEM
Cable Diameter
Mesh Opening Size
mm
inch
mm
Square mesh
3244
3.2
4 x 4
102 x 102
3233
3.2
3 x 3
76 x 76
2044
2.0
4 x 4
102 x 102
2033
2.0
3 x 3
76 x 76
1644
1.6
4 x 4
102 x 102
1633
1.6
3 x 3
76 x 76
1622
1.6
2 x 2
51 x 51
Rectangle mesh
1530
1.5
30x52
1540
1.5
40x69
1550
1.5
50x87
1560
1.5
60x104
1570
1.5
70x121
1580
80x139
15100
100x173
15200
200x346
Special size can be made according to customers required
Material: Stainless steel
Open area: 0%
Cable diameter: 2mm X 1
Cable pitch: 17.5mm
Rod diameter: 1.5mm
Rod pitch: 1.5mm
Weight: 10.98kg/ m2